Do you want to know how to start a blog and make money on the side as a beginner? This guide will show you the 6 easy to follow steps to get your blog up and running in no time at all – basically, in less than 1 hour and at a very low cost!
I (Suheyl, currently 18 years old) started my Blog ProjectAffordAnything a few years ago. I was sick of school and decided to start a blog (also because I recognized early if I keep doing what I'm doing I will end up being a 9 to 5 slave, and I didn't want that no matter what). Fast forward two years later I'm banking five-figures with this blog.
So, come along and let me show you how to create your blog as a beginner and start earning passive income this year.
WHY YOU SHOULD START A BLOG
There are many reasons why people start a blog. For you, it may be to:
Display your creative writing skills

Boost your business's online presence

Make money online using affiliate marketing

Start a work-from-home business

Share your personal story

Help others interact with their immediate community or a wider audience on specific issues

For fun

Or, a combination of some or all of the above. To put it simply, blogging is a booming industry and it can change your life in so many good ways.
If your goal is to achieve any of these objectives above and more, blogging can help you get there. For example, there are many bloggers who earn six-figure incomes monthly through their blog! Starting your own blog as a beginner may be the key to reaching financial independence several decades earlier, and to become your own boss!!
---
---
This is your ultimate guide on how to start your own money-making blog as a beginner. PIN and save for later so you can come back at any time to refresh yourself!
This post may contain affiliate links. Please read my disclosure for more info.
---
STEP 1: CHOOSE YOUR NICHE
Before you start a blog as a beginner, you should know what you want to talk or write about, what service you want to provide, or what products you plan to sell.
For example, let us assume you want to write about photography. it would make sense that you know something about taking photos and have a passion for all things photography. You will be expected to have a show-case of great photos to attract readers who are into photography or who are looking at taking up the hobby.
The same goes for any other topic area. Whether it is fashion, food, online businesses, or what have you, you will need to have some knowledge, expertise, and/or liking of your subject and be willing to share that with others.
The more information you have at your fingertips, the easier blogging will be. However, this does not mean that you need to be considered an expert (or know it all) to blog about anything. If your content is interesting, you will find an audience.
To recap, the first step when starting a blog as a beginner is to define your general niche or topic area. This could be personal finance, travel, fashion, food, productivity and personal development, DIY, crafts, parenting, kids, health and fitness, real estate, etc.
It may also help to narrow down your focus. For instance, personal finances can be further broken down into – saving money, making money, investing, frugal living, debt management, retirement planning, estate planning, getting out of debt, FIRE, and lots more.
Finding your purpose for blogging will give you focus and ensure success.
---
STEP 2: CHOOSE A BLOGGING PLATFORM
I have a had a few blogs over the years that did not gain any traction and simply died off. The reason for their failure was due to choosing the wrong platform from the start. I will go into why you want to choose the right platform, but to answer your question up front, you are always better off starting your blog on the WordPress platform as a beginner.
CLICK HERE TO GO TO THE MOST HIGH QUALITY & CHEAPEST WEB HOST FOR BEGINNING BLOGGER
Pro Tip: Pair up the WordPress platform with a great starter hosting like Bluehost ($3.95/month) to ensure success early on.
A blog platform, also known as the Content Management System (CMS) is what determines how your blog functions, how you write and publish articles, what options you have for tweaking the design and settings of your blog, and more. The more flexible a platform is, the better for you.
A majority of blogs run on the WordPress platform – 60% worldwide (over 75 million) – and there's good reason for this! Popular websites like CNN, New York Post, Fortune, TIME, WIRED, BBC America, TechCrunch, and ProBlogger are all built using WordPress.
Alternative platforms out there include:
Squarespace

Shopify

Wix

Blogger

Tumblr

Drupal
Of these, Blogger is the next best option after WordPress.
WordPress comes in two different versions – WordPress.com and WordPress.org. For long term peace of mind, growth, control and monetization of your blog, you should choose the WordPress.org platform.
WHY CHOOSE A SELF-HOSTED WORDPRESS PLATFORM?
A self-hosted WordPress site is one that uses the WordPress.org platform. Some of the reasons why they are superior include:
1. It is super-easy to use (perfect for beginner) and comes with tons of plugins and other useful tools. 2. You can customize/brand your website address to whatever you want e.g.
yourname.com

yourproduct.com

yourbusiness.com
As opposed to some other platforms where you are limited to generic names like:
yourname.blogspot.com

yourproduct.tumblr.com

yourbusiness.wordpress.com
3. You can place income-earning adverts on your blog and monetize it as much as you want.
4. It is secure.
5. There are tons of third-party tools and plugins built specifically for blogs on the WordPress paltform.
To summarize Step 2, you should think long-term when choosing a blog platform. Free platforms like Blogger, Tumblr, Wix, and Weebly will limit your ability to fully customize your blog and also make money off of your blog, should you choose to do so.
CLICK HERE TO GO TO THE MOST HIGH QUALITY & CHEAPEST WEB HOST FOR BLOGGING BEGINNER
You can easily pair up WordPress with a web host like Bluehost and have your blog up and running in few minutes using their one-click WordPress installation. This option gives you everything in one place!
---


---
STEP 3: CHOOSE YOUR WEB HOSTING PROVIDER
After deciding on your niche and choosing a blog platform (hopefully WordPress), you will need to choose a web host to make your blog accessible on the internet. Choosing the right web host is a big deal! This is because your hosting provider determines:
How fast your blog loads aka page load speed. Web visitors quickly bounce off a website page that loads too slowly (extremely important for beginner bloggers).
If your website is online and accessible all of the time aka uptime.

How secure your website is from hackers.

How much support your get when you have questions and for troubleshooting (important for beginner).
My preferred web hosting service for beginner is Bluehost!
With Bluehost, you get:
A free domain name for 1 year ($11.99 value!)

1-click WordPress install (Nice to have as a beginner)

24/7 expert support

Free SSL certificate (this is an extra layer of security for your visitors)

Hosting starts at a discount price of $3.95/month (50% off)

30-day money-back guarantee

Free custom email

Automatic software updates
These are just some of the many reasons why Bluehost is currently the web host of choice for more than 2 million websites worldwide. You can click here to get your discounted rate of $3.95/month and start your blog today as a beginner.
You can also choose other hosting plans based on your preferences below. The basic plan works great for most beginners.
---
STEP 4: PICK A DOMAIN NAME (BLOG NAME)
A domain name is your blog address, such as Google.com or "mynewblog.com." It is the address that people type into their web browser when they want to access your blog's home page.
Your domain name should be relevant to what you blog about and tell readers what to expect. For example,
–  If it's a personal blog about you and your work, it could be your name e.g. AshleyJane.com.
– If you want to sell arts and crafts, it could be something in the likes of: CraftsAndDIY.com
– If you are blogging about how to make money, you could choose: MoneyMakingTips.com, etc.
Not all blog (domain) names you choose will be available. If your web hosting provider is Bluehost, you can search if the domain name is available. They give you free domain names for 1 year.
If you already have a domain name registered with a different provider, you can simply enter it during the sign-up process.
If the domain name you are interested in is not available, you can choose a different variation e.g. AshleyJane.com vs. AshleyJane.co.uk vs. AshleyJane.ca vs. AshleyJane.net, etc., or a totally different name that works for your purposes just as well. Mind you, ".com" extensions are the most popular and will easily be remembered.
At this point, you now need to complete your registration.
1. Enter your personal details.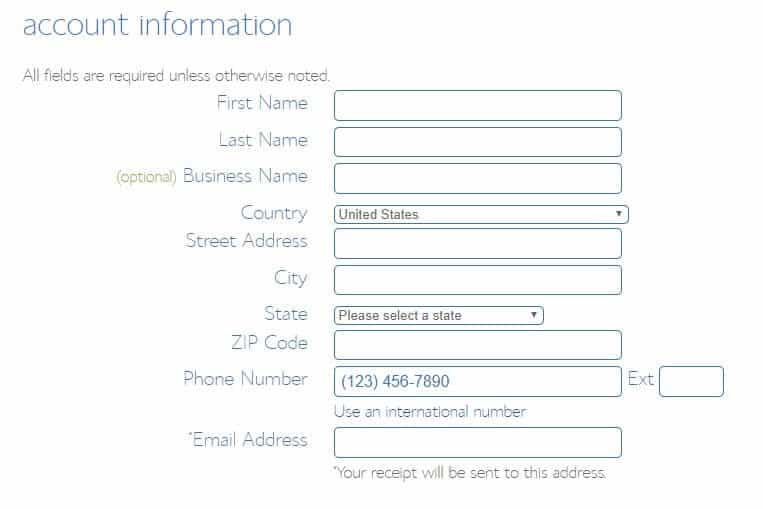 2. Choose your hosting package between 1-3 years in advance. The 3-year package offers the best value for your money (As a beginner I would suggest you choose that)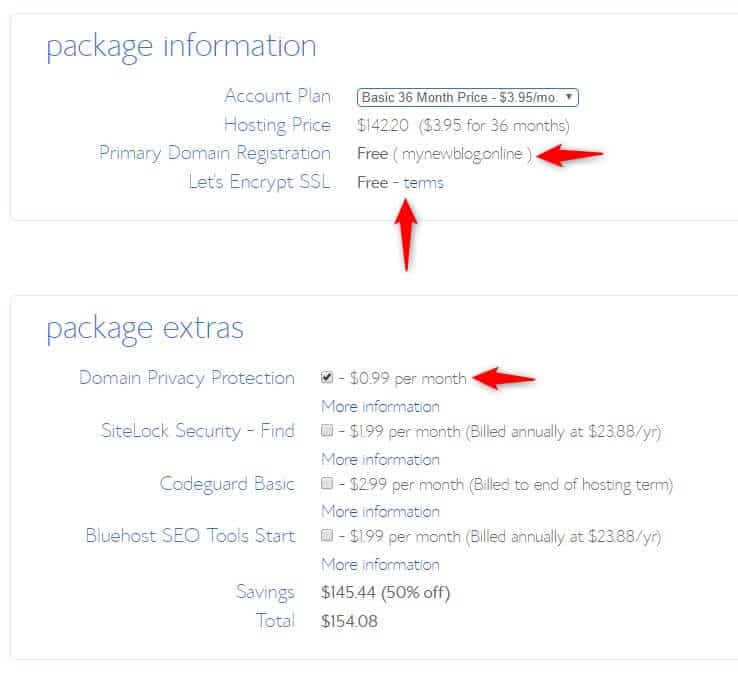 Apart from "Domain Privacy Protection,"I generally skip all the other add-ons. if you think you need them at a later date, you can always get them then.
3. You will be prompted to enter your billing details and submit the form.
4. It is time to choose a password for your account. After setting your password, you can login.
5. WordPress is automatically installed (Woohoo!!).
---
---
STEP 5: CHOOSE A BLOG THEME
When you log-in to your new blog (link would look similar to this – http://www.yourblog.com/wp-admin), you will need to install a theme.
A theme is what determines how your blog is laid out and how it looks on the front and backend. There are many free themes that come pre-installed on WordPress, including themes like "Twenty Twelve," and several hundreds more.
That being said, I strongly advise new bloggers to avoid free themes. While you can easily test-drive your blog with these free themes, if you want your blog to look great, you should spend a little money on a "premium" theme before you launch.
Following from Step 4, if you signed up with Bluehost and have been following the installation steps, you will now be prompted to choose a theme:
The theme options Bluehost will show you are all FREE themes and you can choose one of them to start your blog as a beginner. Alternatively, as mentioned above, you can upload your premium theme at this stage to save you the stress of redesigning your blog later. My choice of a premium theme is one of the easy-to-customize options from Elegant Themes here.
After installing a theme, you can start designing your blog. You are now ready to start customizing and can also go ahead to write your first post! Indicate whether your new website is "personal" or "business," or simply choose "I don't need help." Your blog is now up and ready to roll!!
If you have any questions with any of these steps, you can reach Bluehost's support on a 24/7 basis via email, live chat and phone.
PRO TIP
The theme I use is Extra from Elegant Themes. They offer you a suite of over 87 themes that you can choose from. When you purchase a license, you gain access to all 87+ themes and also some truly awesome plugins (tools) including: Divi Builder (drag and drop page builder), Bloom (for email opt-in forms), and Monarch (a great social media sharing tool for your blog).
Elegant themes offer some of the best themes available on the market and they currently boast of well-over 500,000 members. Their popularity is based on the fact that you do not need to know anything website building to use their themes. Non-techie people can easily use their drag-and-drop functionality, and they come loaded with pre-made layouts for different blog/business set-ups.
You can get the Elegant Themes package here at less than $1 per theme plus a 30-day money-back guarantee!
Why You Should Choose a Premium Theme As A Beginner
You should build your blog using a theme that meets the following requirements:
It is updated regularly and secure against hacking attempts

It looks great, professional, and will attract and keep loyal visitors

It should be easy and flexible to customize – most are simply "Drag" and "Drop"

It should be responsive and conform to any device – desktop computer, tablet, smartphone, etc.

It should be light and load quickly

You should have access to FREE support from the developers. For example, Elegant themes provide chat/email support where you can get help for setting up, customization, and more.
After installing your preferred theme, it is time to design your blog. You should start with home, about, and contact pages. You can now start to publish new posts and begin reaching your audience.
---
---
STEP 6: START MAKING MONEY FROM YOUR BLOG
If the reason for you starting a blog is to make money as a beginner, this section addresses some of the ways to generate income from your blog. it's no secret that there are many bloggers making thousands of dollars and even six-figure incomes per month from their blog. I make a few thousand dollars every month from this blog you are reading right now (www.savvynewcanadians.com), even though I have not yet fully utilized its money-making potential!
So, what are your options for bringing in the moolah?
1. Sell Your Product and Services
Many people start a blog/website in other to sell specific products or services.
For example, if you want people to hire you for your skills e.g. photography, writing, graphic designs, virtual assistance, social media, consulting, etc. Or, you may want to set up a shop to sell different items which may be physical or digital (including online courses, eBooks, printables, software) and use the blog as part of your SEO or visitor engagement strategy.
2. Affiliate Marketing
This is what a majority of bloggers use to generate money…lots of money…like up to six-figure incomes per month every month of the year. Unlike option #1 where you are selling your own services/products, affiliate marketing is about helping someone else (another business or blogger) sell their products and earning a commission for your referral. You can simply promote their useful products within your own blog posts.
Some of the popular affiliate networks you can up for include:
3. Advertising
Allowing advertisement (ads) to display on your blog is one of the easiest ways to earn passive income. When visitors visit your blog, they view these ads along with your other content. Depending on your ad network, you can make money from these advert views and also when visitors click on them.
The most popular ad network for beginner bloggers is Google Adsense. When your blog gains some traction and you start generating more pageviews, you can sign up with the likes of MediaVine and AdThrive.
4. Sponsored Posts
Companies can approach you to write a review for their product or service and place on your blog. They will generally do this for a set fee. They may also offer to compensate you with a sample of the product, or do both (i.e. pay you in cash as well as give you a sample product).
The bigger your targeted audience, the bigger your clout, and the more money you can charge for sponsored posts.
There are lots more ways to make money with your blog. In fact, once your blog is up and has a following, you will have advertisers sending you multiple emails on a daily basis and offering you money for a review of their business, to place ads, for a link, and much more. I get anywhere from 3-6 of these kinds of emails on a daily basis.
To summarize, here are the 6-steps you need to take to start a blog as a beginner:
Step 1: Choose your niche. Write about a topic that is practical and which you are passionate about.
Step 2: Choose the best platform for your blog i.e. a self-hosted blog on WordPress.org
Step 3: Choose a great web host that is fast and offers good support (I recommend Bluehost and you can start at $3.95/month here).
Step 4: Pick a suitable domain (blog) name.
Step 5: Choose and install a premium theme that is simple to customize and which increases your chances of success. I use one of the beautiful 87 themes in the Elegant Themes package.
Step 6: Start making money from your blog.
---
---
FREQUENTLY ASKED QUESTIONS
1) How can I promote and grow my blog as a beginner?
The starting point for your blog to be successful is content – write great content and the traffic will come. With that being said, you can also speed up your blog growth by:
a) Putting effort into your social media game. There are many bloggers who bring in hundreds of thousands of visitors solely from social media channels (Facebook, Reddit, Twitter, etc.) and alternative search engines like Pinterest.
Check out this awesome Pinterest Course for new bloggers who want to generate 50,000+ pageviews (from Pinterest) within a few months of launching their blog
Also, to grow your Pinterest traffic, it pays to automate your pinning with an automated scheduler like Tailwind. Get your FREE one month trial of Tailwind using this link plus a $15 bonus if you choose to purchase a plan later.
Lastly, encourage your visitors to share your content with others using social share buttons embedded on your blog. The Elegant Themes package comes with a FREE and excellent social sharing plugin – Monarch – which you can install.
b) Keep your contents fresh (evergreen) and useful. Google will rank information it deems to be fresh and relevant better than those that appear to be obsolete.
c) Build a subscriber email list of loyal followers using services like Mailchimp or ConvertKit, and keep them engaged.
2) Where can I find free photos for my blog posts and designs?
Great-looking images make your content stand out and be more appealing. While you can choose to purchase stock photos, there are several platforms where you can download FREE high-quality photos that can be used under the creative commons public domain license. Because these do not require any attribution, you will not be breaking copyright laws!
Websites where you can find free images include:
3) What are some of the essential plugins to install on my blog?
There are several useful plugins you should consider installing including:
a) Yoast SEO: This plugin helps to make your content optimized for search engines and will help you grow your organic traffic.
b) Google Analytics Dashboard: The Google Analytics plugin by Exact Metrics will help you see how visitors are using your site with real time stats showing how many people visit your blog, where they are from, pages they are reading, and more.
c) Akismet: When you start your blog, you will be surprised at how many junk/spam comments your blog gets. Akismet stops spam, it is as simple as that.
d) UpdraftPlus: This plugin makes automatic backups of your website so that if anything happens, you can restore a backup as simple as 1-2-3. The free version is adequate for most bloggers.
e) WordFence: While Bluehost already have security features in place to protect your blog, it does not harm to have additional protection using this free security plugin.
If you prefer a free option, check out Contact Form 7.
4) Where can I get help for designing my blog?
With the right theme, designing your blog is a breeze. For example, I use Elegant Themes and they provide tons of already fully-designed layouts with their themes that can simply be installed with one-click!
However, if you still need some help with completing some of the tasks, such as logo design, blog post writing, web design, and more, you can hire freelancers on sites like
---
If you found this post useful, please share it with others, pin for reference, and Follow Me on Pinterest! Thanks!